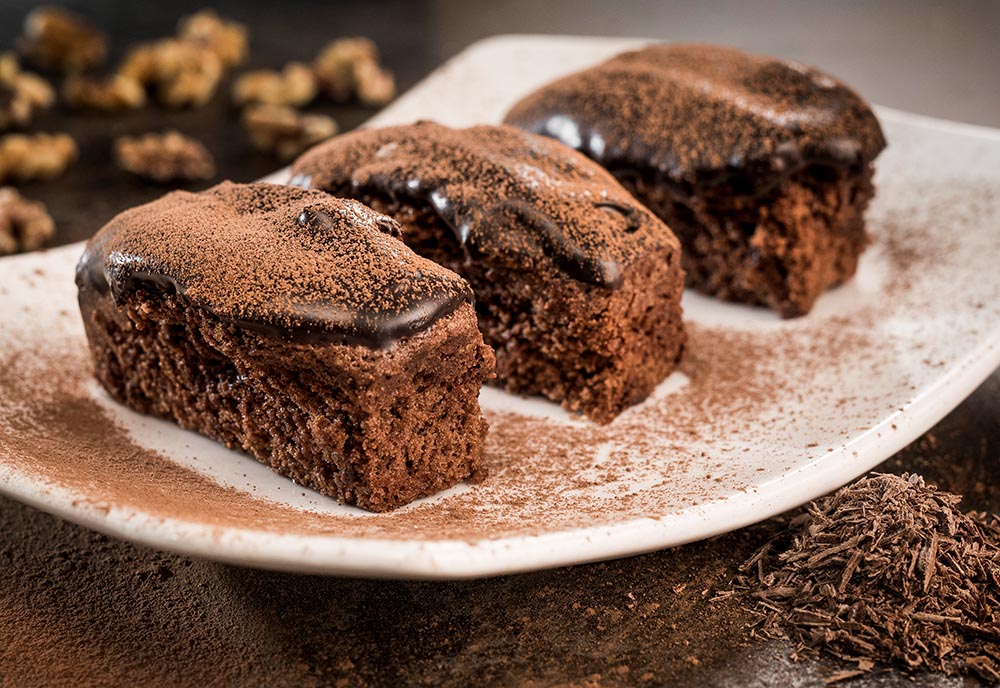 Chocolate and olive pudding
For the pudding
50 g of pure cocoa powder
120 ml of boiling water
200 gr of sugar
220 g of brown sugar
175 cc of olive oil
3 eggs
1 teaspoon of vanilla
250 gr of flour 0000
2 teaspoons of baking powder
Pinch of salt

For the ganache:

200 gr of minimum 60% dark chocolate
200 ml cream
30 ml olive oil
1 teaspoon vanilla
Preheat the oven to 180 ° C.
Cover the bottom of the mold with butter paper.
In a bowl, mix the two sugars with the eggs and beat vigorously until the mixture has formed.
Add the vanilla and oil and beat for one more minute.
In another bowl, mix the cocoa with the boiling water.
Add the salt and baking powder to the egg and sugar mix and start adding the flour
alternating with the cocoa and boiling water mix. Continue stirring until the preparation is
homogeneous.
Put the dough in a mold and bake the preparation for approximately 50 minutes.
The dough should be moist in the center.
Let cool for about 10 minutes and remove from the mold. Leave it to cool completely.
While it cools, prepare the chocolate ganache by placing the chopped chocolate in a bowl.
Boil the cream and pour half over the chopped chocolate. Let stand 30 seconds and starting
from the center of the bowl, move slowly with a rubber spatula until it's well mixed.
Add the rest of the cream and move slowly. Now add the olive oil and vanilla, stirring until
completely incorporated.
Chill in the fridge for about 30 minutes and beat with a whisk until stiff peaks form.
Spread our chocolate cream on the pudding and serve.